The PepperPad 3 is a kitchen computer. Unlike previous versions, and multiple tablets that litter the slate-form-factor fields of battle, it's not trying to be anything more than a handy device for looking up a recipe or two, listening to some Internet radio and maybe popping on a little prerecorded daytime TV or some in-bathroom web browsing.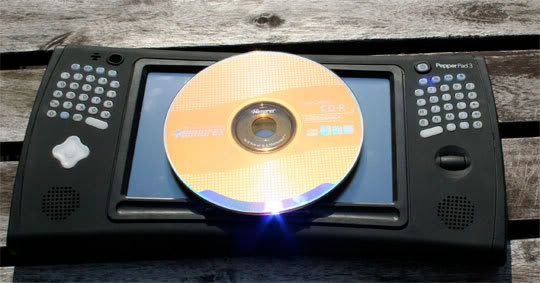 It's about as big as a paperback book and runs an AMD Geode 533-Mhz processor. The device we received had 20GB of disk space and 256MB memory. The pad weighs about two pounds and is clad in rubberized plastic that makes for a nice grip. The touchscreen is acceptably sensitive and the split keyboard, while annoying at first, grows on you. There's also a webcam, directional pad, and little scroll wheel. In all, it fits quite nicely in the hand and feels substantial enough to survive a fall from the kitchen counter.
Right now the applications are fairly basic. There's a video player and an audio player along with an email client and an AIM client. All of the applications are accessible from the bottom of the screen, in tabs, or from the main icon screen. Most of the media is stored on disk—a fairly nasty thing—but you can also sync with Windows desktops using PepperPad's desktop application. There is no visible way to add a network share drive but you can connect an external USB drive to drag and drop content onto the pad.
As a happy Nokia 770 user, I like to compare devices like the PepperPad—devices that are mainly "Internet tablets" rather than "laptops without keyboards" like the UMPC junk we've been seeing—to Nokia's diminutive tablet. The PepperPad holds up quite favorably in that it is specifically designed with folks who wouldn't use a laptop. It's rugged, easy to use and small enough to hide out of the way when not in use. That said, it is also a hacker's dream and costs a mere $699 on Amazon, about the same as the 770. Thanks to its Linux base, it can run almost any Linux app.
Why should you get a PepperPad rather than a laptop? If Mom needs a computer for her recipes, email and maybe some AIM and Mom is of the Greatest Generation and doesn't want one of those computer viruses, this is the answer. If gramps wants to listen to the local classical station in the basement and maybe download woodworking patterns, well, by gum, here you go. And if you want to browse the web from your couch and then drop this thing on the floor next to you when you doze off, this is your device.
If you want to get any work done, go get a laptop. If you want something that's instant on, has an acceptable form factor and will, in time, ensconce itself into your life, then take a look at the PepperPad 3.